Difference between revisions of "User talk:MRENTHUSIASM"
Line 46:
Line 46:
 
 
 

<b>Hi DofL, nice seeing you here!</b>

 

<b>Hi DofL, nice seeing you here!</b>

 
+
 
+
 
+
 
+
 
 
 

==Contribution Suggestions==

 

==Contribution Suggestions==
---
Revision as of 20:38, 9 August 2021
Introduction
Hi Everyone,
Welcome to my user talk page. In here, feel free to leave messages about anything you'd like (chats with me, AoPS contribution suggestions, hobbies, movies, music, ...). Let's get a casual time here. :)
I will be responding your messages as soon as I see them. Have fun!
The bottom line here is to be respectful. My pet Hippopotamus will be watching you!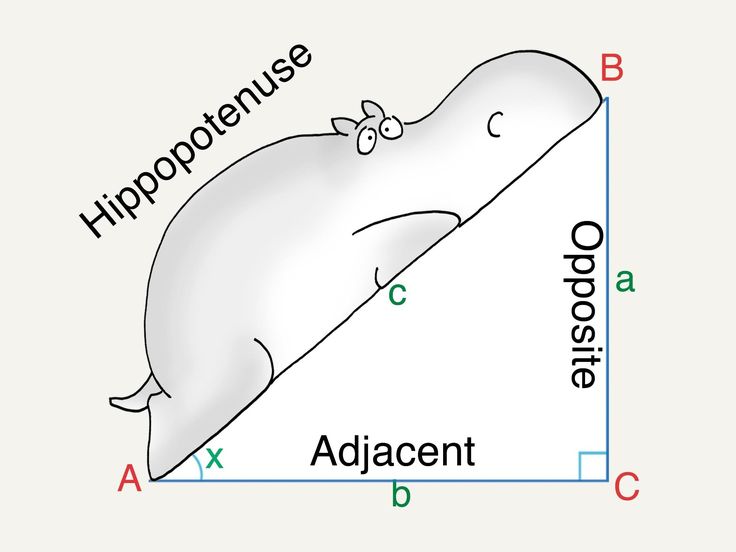 ~MRENTHUSIASM
Chats
Rayford: First!
Rayford: Hello😀.
Rayford: How do you make a talk page? (Not your Profile page.)
(Rayford had went offline from the chat)
Hello Rayford,
The chat page is just the Discussion Page. You can find that on the left toolbar (just underneath the user page).
I believe anyone at AoPS has the right to edit the others' chat page, when he/she wants to leave a message. :)
Kfcruan: Hi, how do you create your on chatting page?
Kfrcuan: I'd also like to thank you for helping me get solutions for all of these competition problems. --------->  :)
Hello Kfcruan,
You are welcome. Glad that you liked my solutions! :)
You just asked the same question as Rayford did (Chatting page is the same as talk page). I answered it as above.
Kfcruan: I do not see the page though. Could you send a screenshot?
Here it is. Click 1 and 2 in order.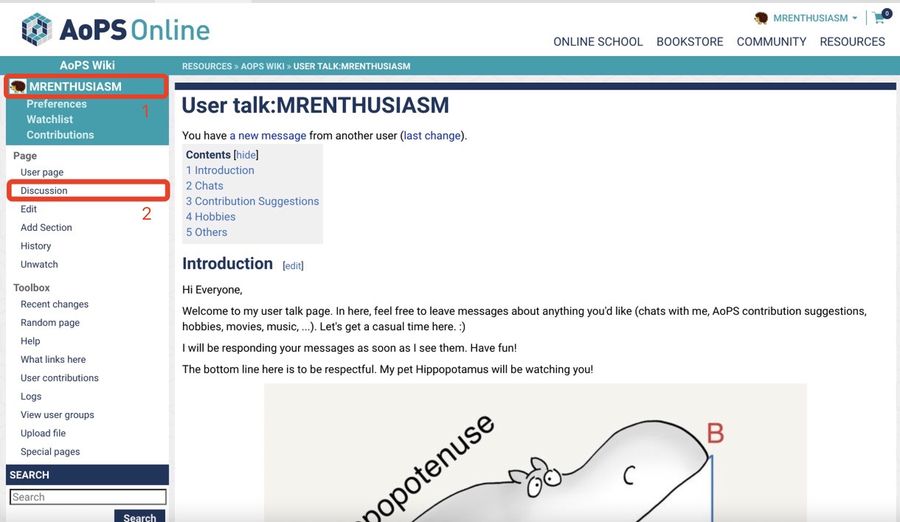 DofL: Hello Mr. Enthusiasm! (It actually took me a while to understand what your username meant before I realized XD)
Hi DofL, nice seeing you here!
Hi MRENTHUSIAM, thanks for visiting my pages! :D I made them from your inspiration!! You are inspiring a lot of people. :) I learned something new today so I thought I would share it. If you put "alternate solutions" with two curly braces on either side, it has a nice message: Alternate solutions are always welcome. If you have a different, elegant solution to this problem, please add it to this page.
-BakedPotato66
Contribution Suggestions
Leave your suggestions for my AoPS contributions here!
Hobbies
Leave your hobbies here!
Others
Leave any other types of messages here!