1988 AIME Problems/Problem 7
Problem
In triangle
,
, and the altitude from
divides
into segments of length 3 and 17. What is the area of triangle
?
Solution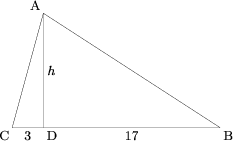 Let
be the intersection of the altitude with
, and
be the length of the altitude. Without loss of generality, let
and
. Then
and
. Using the tangent sum formula,
The positive value of
is
, so the area is
.
See also
The problems on this page are copyrighted by the Mathematical Association of America's American Mathematics Competitions.