2006 AIME II Problems/Problem 1
Problem
In convex hexagon
, all six sides are congruent,
and
are right angles, and
and
are congruent. The area of the hexagonal region is
Find
.
Solution
Let the side length be called
, so
.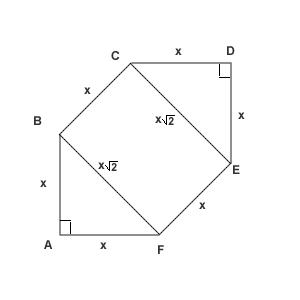 The diagonal
. Then the areas of the triangles AFB and CDE in total are
, and the area of the rectangle BCEF equals
Then we have to solve the equation
.
Therefore,
is
.
Solution 2
Because
,
,
, and
are congruent, the degree-measure of each of them is
. Lines
and
divide the hexagonal region into two right triangles and a rectangle. Let
. Then
. Thus
so
, and
.
See also
The problems on this page are copyrighted by the Mathematical Association of America's American Mathematics Competitions.