2004 AMC 12A Problems/Problem 12
Problem
Let
and
. Points
and
are on the line
, and
and
intersect at
. What is the length of
?
Solution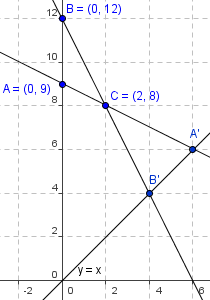 The equation of
can be found using points
to be
. Similarily,
has the equation
. These two equations intersect the line
at
and
. Using the distance formula or
right triangles, the answer is
.
See also
The problems on this page are copyrighted by the Mathematical Association of America's American Mathematics Competitions.