2005 AMC 12A Problems/Problem 16
Problem
Three circles of radius
are drawn in the first quadrant of the
-plane. The first circle is tangent to both axes, the second is tangent to the first circle and the
-axis, and the third is tangent to the first circle and the
-axis. A circle of radius
is tangent to both axes and to the second and third circles. What is
?
Solution
Solution 1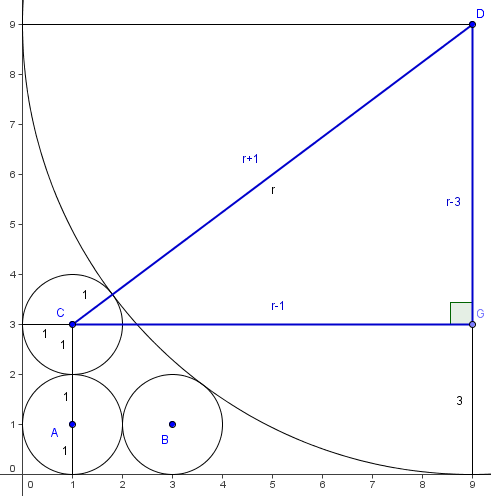 Set
so that we only have to find
. Draw the segment between the center of the third circle and the large circle; this has length
. We then draw the radius of the large circle that is perpendicular to the x-axis, and draw the perpendicular from this radius to the center of the third circle. This gives us a right triangle with legs
and hypotenuse
. The Pythagorean Theorem yields:
Quite obviously
, so
.
Solution 2
Applying Wildin's Theorem directly yields
As before,
, so
.
(Note that Wildin's Theorem is not a valid theorem for many AMC 12 problems.)
See also
The problems on this page are copyrighted by the Mathematical Association of America's American Mathematics Competitions.