2002 AMC 12B Problems/Problem 25
Problem
Let
, and let
denote the set of points
in the coordinate plane such that
The area of
is closest to
Solution 1
The first condition gives us that
which is a circle centered at
with radius
. The second condition gives us that
Thus either
or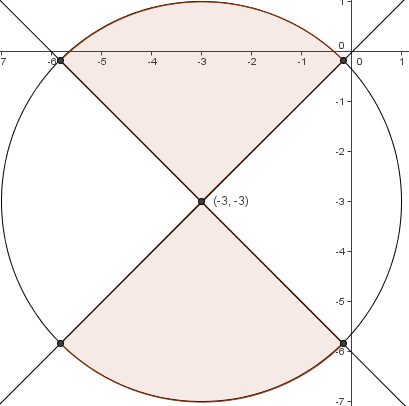 Each of those lines passes through
and has slope
, as shown above. Therefore, the area of
is half of the area of the circle, which is
.
Solution 2
Similar to Solution 1, we proceed to get the area of the circle satisfying
, or
.
Since
, we have that by symmetry, if
is in
, then
is not, and vice versa. Therefore, the shaded part of the circle above the line
has the same area as the unshaded part below
, and the unshaded part above
has the same area as the shaded part below
. This means that exactly half the circle is shaded, allowing us to divide by two to get
. ~samrocksnature + ddot1
See also
The problems on this page are copyrighted by the Mathematical Association of America's American Mathematics Competitions.