2004 AMC 12A Problems/Problem 18
The following problem is from both the 2004 AMC 12A #18 and 2004 AMC 10A #22, so both problems redirect to this page.
Problem
Square
has side length
. A semicircle with diameter
is constructed inside the square, and the tangent to the semicircle from
intersects side
at
. What is the length of
?
Solution 1
Let the point of tangency be
. By the Two Tangent Theorem
and
. Thus
. The Pythagorean Theorem on
yields
Hence
.
Solution 2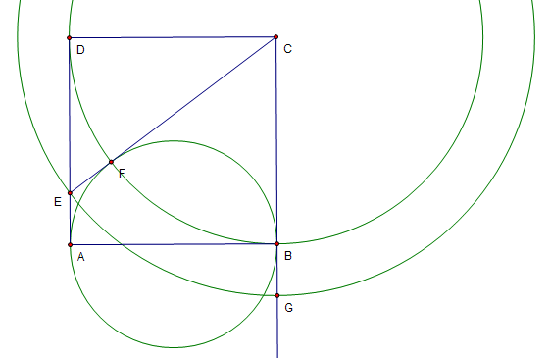 Clearly,
. Thus, the sides of right triangle
are in arithmetic progression. Thus it is similar to the triangle
and since
,
.
Solution 3
size(150);
defaultpen(fontsize(10));
pair A=(0,0), B=(2,0), C=(2,2), D=(0,2), E=(0,1/2), F=E+(C-E)/abs(C-E)/2, O=(1,0);
draw(A--B--C--D--cycle);draw(C--E);draw(
draw(Arc((1,0),1,0,180));draw((A+B)/2--F);
label("$A$",A,(-1,-1));
label("$B$",B,( 1,-1));
label("$C$",C,( 1, 1));
label("$D$",D,(-1, 1));
label("$E$",E,(-1, 0));
label("$F$",F,( 0, 1));
label("$O$",S,(0,-1));
label("$x$",(A+E)/2,(-1, 0));
label("$x$",(E+F)/2,( 0, 1));
label("$2$",(F+C)/2,( 0, 1));
label("$2$",(D+C)/2,( 0, 1));
label("$2$",(B+C)/2,( 1, 0));
 (Error compiling LaTeX. 92000d0eda1bf1cadb1da33b0612f58cdf3fe4c0.asy: 7.25: syntax error
error: could not load module '92000d0eda1bf1cadb1da33b0612f58cdf3fe4c0.asy')
See also
The problems on this page are copyrighted by the Mathematical Association of America's American Mathematics Competitions.