2005 AMC 10A Problems/Problem 23
Problem
Let
be a diameter of a circle and let
be a point on
with
. Let
and
be points on the circle such that
and
is a second diameter. What is the ratio of the area of
to the area of
?
Solution 1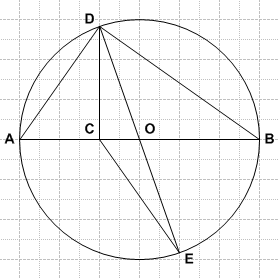 WLOG, Let us assume that the diameter is of length
.
The length of
is
and
is
.
is the radius of the circle, which is
, so using the Pythagorean Theorem the height
of
is
. This is also the height of the
.
The area of
is
=
.
The height of
can be found using the area of
and
as base.
Hence, the height of
is
=
.
The diameter is the base for both the triangles
and
,
Hence, the ratio of the area of
to the area of
is
=
Solution 2
Since
and
share a base, the ratio of their areas is the ratio of their altitudes. Draw the altitude from
to
.
.
Since
, then
. So the ratio of the two altitudes is
Solution 3
Say the center of the circle is point
; Without loss of generality, assume
, so
and the diameter and radius are
and
, respectively. Therefore,
, and
. The area of
can be expressed as
happens to be the area of
. Furthermore,
or
Therefore, the ratio is
Solution 4
Let the point G be the reflection of point
across
. (Point G is on the circle).

Let
, then
. The diameter is
. To find
, there are two ways (presented here):
1. Since
is the diameter,
. Using power of points,
2. Use the geometric mean theorem,
(These are the same equations but obtained through different formulae)

Therefore
. Since
is a diameter,
is right. By the Pythagorean theorem,

As established before,
is right (if you are unsure, look up "inscribed angle theorem", this is a special case of the theorem where the central angle measures
) so
is the altitude of
, and
is the base. Therefore
is the base of
and
is the height.

The required ratio is
The answer is
.
~JH. L
Solution 5 (Video)
Video solution: https://youtu.be/i6eooSSJF64
See Also
The problems on this page are copyrighted by the Mathematical Association of America's American Mathematics Competitions.