2012 AMC 8 Problems/Problem 5
Problem
In the diagram, all angles are right angles and the lengths of the sides are given in centimeters. Note the diagram is not drawn to scale. What is ,
in centimeters?
Solution 1
Thus, the answer is
.
Solution 2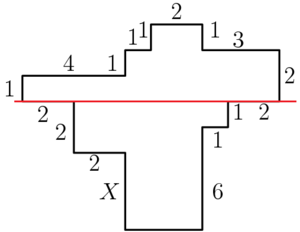 Note that we only need to consider the value below the marked red line, so we have equation:
Hence, the answer is
.
Video Solution
https://youtu.be/m4g-Nmot-c8 ~savannahsolver
See Also
The problems on this page are copyrighted by the Mathematical Association of America's American Mathematics Competitions.