2002 AMC 12B Problems/Problem 20
The following problem is from both the 2002 AMC 12B #20 and 2002 AMC 10B #22, so both problems redirect to this page.
Problem
Let
be a right-angled triangle with
. Let
and
be the midpoints of legs
and
, respectively. Given that
and
, find
.
Solution 1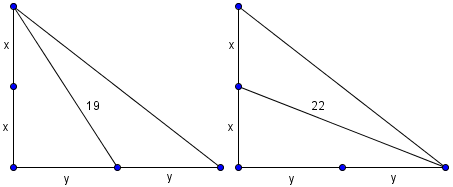 Let
,
. By the Pythagorean Theorem on
respectively,
Summing these gives
.
By the Pythagorean Theorem again, we have
Alternatively, we could note that since we found
, segment
. Right triangles
and
are similar by Leg-Leg with a ratio of
, so
Solution 2
Let
and
Then,
Since
and
Adding these up:
Then, we substitute:
See also
The problems on this page are copyrighted by the Mathematical Association of America's American Mathematics Competitions.