2006 AMC 12A Problems/Problem 16
The following problem is from both the 2006 AMC 12A #16 and 2006 AMC 10A #23, so both problems redirect to this page.
Problem
Circles with centers
and
have radius 3 and 8, respectively. A common internal tangent intersects the circles at
and
, respectively. Lines
and
intersect at
, and
. What is
?
Solution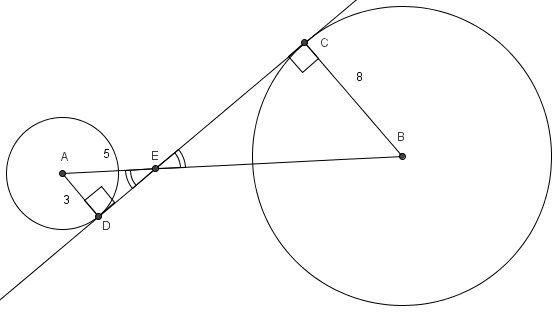 and
are vertical angles so they are congruent, as are angles
and
(both are right angles because the radius and tangent line at a point on a circle are always perpendicular). Thus,
. By the Pythagorean Theorem, line segment
. The sides are proportional, so
. This makes
and
.
See also
The problems on this page are copyrighted by the Mathematical Association of America's American Mathematics Competitions.